iLex Insights #2 | 2021 Q1 Review – Jumbo Deals in Vogue
26 April 2021
With the first three months of 2021 behind us, we did a deep dive into the APAC loan market using iLex Analytics to see what the quarter delivered. What stood out was the amount of jumbo issuance done, with deals that were USD1bn+ making up 41% of total volume, the highest in two years, across sectors and markets.
The Market Hotspots chart below for March shows jumbos made up the majority of volumes in these sub-regions across APAC.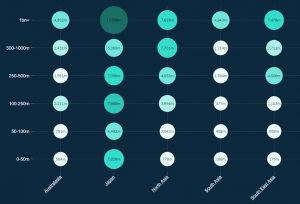 The largest deal was Zhejiang Petrochemical's CNY52.7bn (USD8bn) Term Loan. There were sizable jumbo deals too for Softbank (USD8bn), Guizhou Guijin Expressway (CNY26bn), Trafigura Pte Ltd (USD5.5bn) and Mumbai Nagpur Super Communication Expressway (INR 245bn). Other noteworthy deals included Grab's TLB (USD2bn), a SF Holding bridge loan for the acquisition of a stake in Kerry Logistics (HKD18bn) and Baidu's TL/RCF (USD3bn).
The infrastructure deals mentioned above contributed to the high proportion of long-dated 10+yr deals: 24% of volumes, the highest in two years. We also saw more than 20% of total volumes with margins in the 300-500bps bracket, reflecting the influence of the large domestic Chinese segment, 82% of which was priced in that area.
There was also an unusually low 13% of aggregate volume issued outside of the five largest jurisdictions: Japan, China, Australia, Hong Kong and Singapore.
For more data and analytics or to perform your own quarterly review, log in to the iLex platform now.
To gain your own insights into what's happening in the loan markets and use iLex's analytics to support deal flows, login here to the iLex platform now if you are a iLex Pro user or request for a demo here.