> USD 13 trillion
large corporate loans outstanding in APAC growing to USD 17 trillion in 2025
> USD 629 billion syndicated lending
in APAC in 2020
> 12,739 borrowers
accessing capital through syndicated transactions in the last 5 years in APAC
> 1,849 active lenders
originating from c.60 countries with regular new entrants
> 26,625 loan participations
in new syndicated transactions across APAC in 2020
… with major inefficiencies and pain points.

Highly manual & analogue processes

Market reach constrained by resources

Lack of liquidity in secondary market

Low level of price discovery

Limited market data

Compliance and operational risks
> USD 13 trillion
large corporate loans outstanding in APAC growing to USD 17 trillion in 2025
> USD 700 billion syndicated lending
in APAC in 2019
> 12,000 borrowers
accessing capital through syndicated transactions in the last 5 years in APAC
> 1,200 active lenders
originating from c.60 countries with regular new entrants
> 30,000 loan participations
in new syndicated transactions across APAC in 2019
… with major inefficiencies and pain points.

Highly manual & analogue processes

Market reach constrained by resources

Lack of liquidity in secondary market

Low level of price discovery


Compliance and operational risks
How iLex is helping to transform the corporate loan market.
Ensuring Deal Confidentiality and Data Security.
Information privacy and security is a core principle of iLex's operations. iLex stores all data encrypted, with strict IT security controls, in multiple availability zones.
Our platform ensures the strictest standards of confidentiality. Deal and client information remain private. Clients are in full control of the amount of disclosure they choose to share with counterparties.
We have strategic partnerships with global industry players to integrate their leading solutions and data with the iLex platform, as part of our efforts to deliver end-to-end automated trade execution and a comprehensive source of data and analytics for loan market participants.
SOLUTIONS AND DATA PARTNERS



INDUSTRY ASSOCIATIONS

We are a member of the Asia Pacific
Loan Market Association.

We are a member of and certified by the Singapore Fintech Association (SFA).
iLex Market
First all-to-all electronic market for corporate loans, offering participants an instant reach to a global and diverse network.
Proprietary Matching Engine utilises machine learning technology to deliver intelligent counterparty matching, incorporating participants' buy and sell interests, transaction histories and market insights.
Expanded universe of loan assets enable sellers to distribute and trade with a wider pool of buyers and perform real-time market sounding, and for buyers unparalleled access to loan assets and price insights.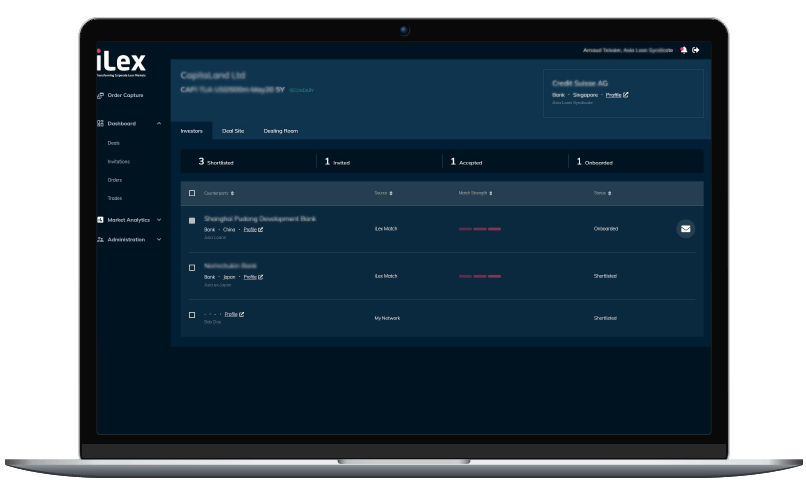 Access more deal opportunities


Real-time market sounding

iLex Digital
End-to-end automation of primary loan syndication and secondary market workflows on a single platform.
Integrating proprietary digital solutions with industry leading third-party providers to deliver straight-through trade execution with the highest standards of security.
Enhancing user experience and collaboration with secure communications and negotiation features, automated deal workflows and monitoring tools throughout the deal lifecycle.
All trade activities are logged for regulatory compliance and client monitoring, ensuring strict data privacy and confidentiality.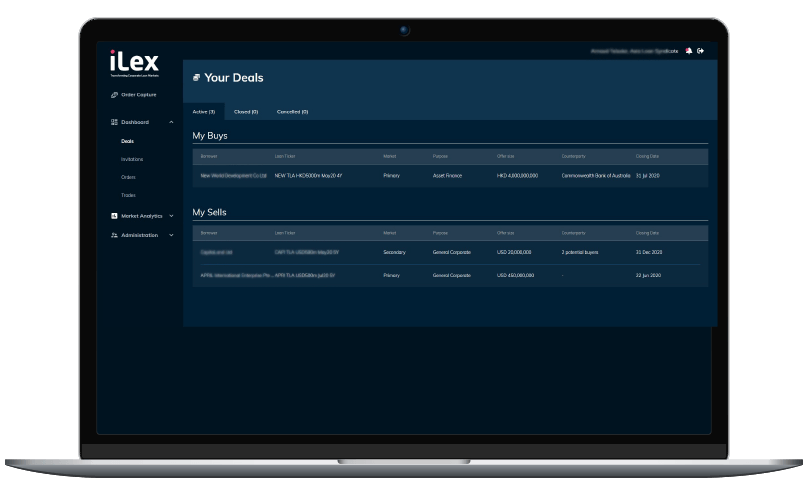 Operational and cost efficiencies


Secure dealing environment

Monitoring throughout
the deal lifecycle
iLex Analytics
A comprehensive and trusted source of loan market data and analytics.
Access extensive market intelligence on-the-go including both iLex's proprietary data and aggregated information from leading industry partners IHS Markit and Refinitiv on a single platform.
iLex's contextual data visualization tools provide smart data and analytics on market liquidity, lender and borrower insights and pricing benchmarks tailored to each user's needs.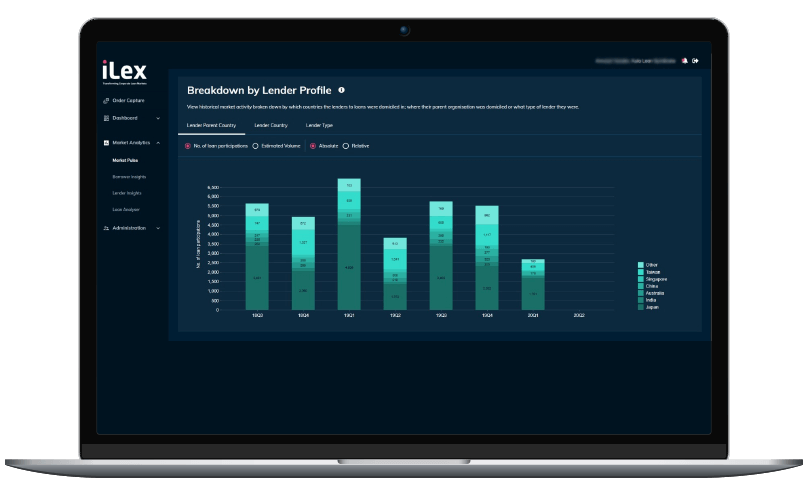 Better contextual market intelligence


Deeper insights into market activities and pricing trends

Support for better and faster credit decisions

Availability of analytics
on-the-go
iLex's development of an electronic market and trading platform for corporate loans is supported under the Financial Sector Technology and Innovation Scheme through the Financial Sector Development Fund administered by Monetary Authority of Singapore.
iLex is grateful for the support of

We are always looking for smart, driven individuals ready for a challenge. If you are interested in exploring opportunities with iLex, tell us more about yourself at [email protected].