iLex Insights #4 | A Look Inside Thailand's Syndicated Loan Market
2 July 2021
In April we saw Gulf Energy Development, Thailand's power producer, launch an acquisition offer of over USD5bn for 81.1% listed shares of telecommunications company Intouch Holdings. It is reported that a jumbo bridge is being circled. This M&A reminded us of the acquisition of Tesco's Asian businesses by CP Group of Thailand with a USD7.2bn syndicated loan package in August 2020.
Such deals are not a common occurrence in Thailand, prompting us to conduct a quick review of Thailand's loan market using iLex's Market Analytics tools.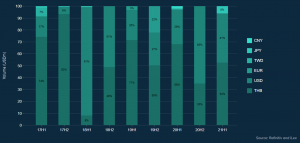 Over the last 5 years, around 55% of the total USD31bn equivalent volume and 59% of the 71 deals reported by Refinitiv are denominated in THB. Transactions in foreign currency are predominantly in USD.
iLex analytics' industry breakdown shows that Infrastructure & Utilities make up approximately a third of total volumes, where volumes are largely project finance related and are from the Power industry. The rest are 17% of volumes from Consumer & Services, 12% from F&B & Agriculture, followed by Transport, Industrials, and others.
Interesting to note, the Telecommunications sector has only contributed US$1bn of volumes across 5 deals over 5 years.
While THB transactions are dominated by the Thai domestic banks, we also see a decent contribution of 33% of volumes over the last 2 years from foreign lenders including those from Japan, China, Malaysia, the UK, Australia, the Philippines, and others.
Similarly, these foreign lenders are also present in the foreign currency transactions segment. Apart from the aforementioned, there are also lenders from Taiwan, Singapore and the US.
While there have been recent jumbo acquisition activities in Thailand, this market remains a relatively small volume contributor (less than 10% of volumes) in South-East Asia. We have yet to see if these events are early signals that Thailand could consistently propel more financing opportunities in the near future.
To gain your own insights into what's happening in the loan markets and use iLex's analytics to support deal flows, login here to the iLex platform now if you are a iLex Pro user or request for a demo here.