iL

ex

Unveils

Major Platform Update

to

Augment Opportunities and Strengthen Deal-Making Capabilities for

its Users
4 April 2022
iLex, Asia's first multi-dealer electronic market for corporate loans, today announced a major upgrade to the iLex platform with the launch of iLex 3.0.
Re-designed with a sleek and intuitive interface, iLex 3.0 brings to its users unprecedented direct access to deals, powerful and instantaneous analytics, enhanced interactive deal sites, and additional collaboration features.
Loan Markets' First and Largest Digital Market
A key highlight includes the brand-new iLex Market, a visual and real-time market offering users unprecedented access to deals and investors.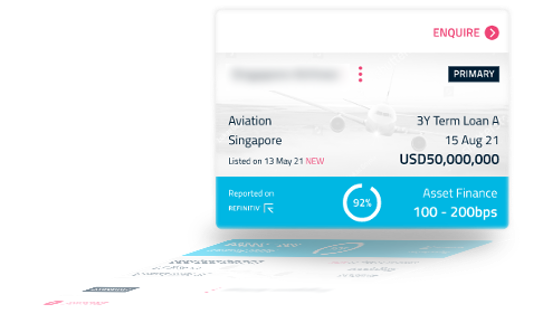 iLex Market brings 20,000+ Refinitiv-reported and privately listed deals onto one single page in the form of deal cards, where users can screen through live deal opportunities available in the market and directly enquire with investors in one click.
"Traditionally, investors have to wait to be invited to deals from someone in their personal networks," said Bertrand Billon, CEO and Founder of iLex, "With iLex Market, it is now easier to source for opportunities from iLex's universe of deals. Investors can proactively search for a deal of interest and directly reach out to investors instead of waiting for an invitation."
Users looking to sell deals will be able to list their deals in iLex Market, with full control over disclosure settings. iLex's proprietary Algorithmic Matching will instantly suggest the most relevant counterparties to their deal, significantly simplifying traditional counterparty discovery processes.
Turbo-Boosted Analytics
The new release also sees the addition of new insights from S&P Global Market Intelligence's new Risk Gauge Scores to iLex Analytics, enhancing the platform's suite of analytical tools currently powered by data aggregated from iLex and Refinitiv's LoanConnector.
S&P Global's Risk Gauge scores are shadow ratings for public and private borrowers benchmarked to the S&P rating scale. Its integration into iLex Analytics enables users to uncover more comprehensive insights on markets, borrowers and lenders in conjunction with iLex's news, loan and pricing data.
Next-Generation Electronic Deal Flows
The update also features upgraded and intuitive deal sites where teams can efficiently manage deals, engage with investors, and collaborate in real-time. Each deal site comes with new state-of-the-art tools with collaborative functions including live chats, virtual data room, investor FAQs and automated bookbuilding.
In addition to the above new features, the platform's look and feel have been refreshed to follow a streamlined and intuitive principle, with new collaborative functions to deliver an enhanced and seamless user experience.
The cloud-native platform is also gearing up for more API connectivity this year on its robust and open architecture. This follows iLex's commitment to delivering a fully integrated platform with their partners to deliver a venue where market participants can manage deals from pre-trade to post-trade.
"iLex 3.0 further solidifies the concept of a loan marketplace, with enhanced analytics and deal workflows to support a better and faster deal process," said Billon. "3.0 is the first of many more major developments to come, as we continue to evolve and improve to drive digital adoption amongst loan market players and in turn, bring liquidity, efficiency, intelligence and improved security to loan markets."
iLex 3.0 is available immediately to existing iLex users. Parties interested in experiencing iLex's capabilities can schedule a demo or sign up for a free trial account.